Hybrid Super
Conceived for medium-sized sales areas, HYBRID SUPER optimises performance and endurance.
Thanks to its extraordinary manageability and noiselessness, it transmits to the consumer better ease of use.
Shopping trolley with metal structure recommended for supermarkets.
Metal structure with high zinc thickness electrogalvanising and sealing treatment in accordance with the UNI EN 1929-1 standard.
Characteristics
Capacity: 180 lt (theoretical volume)
Width: 600 mm
Height: 1.070 mm
Depth: 1.100 mm
Nesting capacity: 310 mm
Weight: 21,5 kg
Colours
Baby-seat
● RAL 7043
● RAL 3020
● RAL 5015
Handle
● RAL 7043
● RAL 3020
● RAL 5015
Basket
● RAL 7043
● RAL 3020
● RAL 5015
● RAL 2008
● P 375C
Customisable in any colour on customer request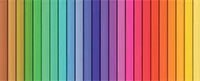 Wheels
7. Hybrid Ø 125
8. Hybrid travelator Ø 125
9. Hybrid fixed rear wheels Ø 125
12. Hybrid with brake Ø 125