Pleasy
Earmarked for small-to medium-sized sales areas, given its accurate design and technical planning ability PLEASY fully represents the innovative turning point for the shopping trolley.
Conceived as an ultra-light product, it is shaped as a single screw-less block, made entirely in plastic material.
Its accurate ergonomics proves to be especially comfortable for users.
Pleasy is noiseless and easy to maneuver from all sides.
It combines moderate size and a loading capacity of as much as 100 litres.
Characteristics
Capacity: 100 lt
Width: 580 mm
Height: 1.050 mm
Depth: 750 mm
Nesting capacity: 130 mm
Nesting capacity of travelator 180 mm
Weight: 11 kg
Colours
Body
● RAL 8019
● RAL 7043
Back wall
● RAL 1019
● RAL 5015
● RAL 1023
● P 375C
● RAL 3020
● RAL 2008
Customisable in any colour on customer request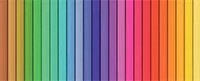 Wheels
1. LC Ø 100
2. LC Ø 125
3. LC travelator Ø 125
4. Premium Ø 100
5. Premium LC Ø 125
6. Premium travelator LC Ø 125 T.M.
7. LC with brake Ø 100
8. LC with brake Ø 125